€279.99
€235.29
excl. tax
1080p Full HD indoor LAN & WiFi security camera with 2-way audio (microphone & speaker), PIR sensor, motion detection, pan & tilt, HTML5 video and web interface, Infrared nightvision, HTTPS, ONVIF and MQTT for smart home integration.

PANASONIC CMOS Sensor
1080p, WDR

IR Night Vision
10x 850nm IR-LEDs

Pan & Tilt
350° Pan 100° Tilt

Wide-Angle
90º horiz. Viewing Angle

Passive IR Sensor
Heat sensitive motion sensor

Motion Detection
Software based detection

E-Mail Alarm
E-mail Alarm Notification

PUSH Alarm
PUSH Notification to
your mobile device

Alarm Buffer
Alarm videos incl. 3s
Pre-recording

MQTT
Easy smart home
integration via MQTT

Alarm I/O
for external sensors &
output devices

Alarm Sound
Notification sound when
alarm is triggeredt

Modern WebUI
Clean Interface,
Easy Configuration

Free Apps
For access with mobile
devices

HTTPS & SSL
Encrypted DDNS-Access,
Email- & FTP-Transfer

User Management
Administrator, User
account, Guest account

Babymonitor
Via Noise Detection

Photo Series
Save snapshots to FTP(S)/Email/
SD in a settable time interval

Video Recording
Save alarm videos on
internal SD card

Alarm Schedulet
Scheduled alarm activation

WiFi Connection
IEEE 802.11 b/g/n mit bis
zu 108Mbit

WPS Setup
Easy WiFi Setup via WPS

Onvif Standard
Easy integration through
Onvif 2.4

DDNS & P2P
P2P also supports IPv6 and
DS-Lite Internet connections

Audio In
Built-in Microphone

Speakers
Built-in speakers &
3,5mm audio jacket

Privacy Mask
Black out areas you don't
want to capture

Alarm Areas
Up to 4 customizable
alarm detection areas

FTP Upload
Upload via ftp to external
storages

SD Memory Card
Supports SDHC up to 128GB

Optional Cloud Integration
Transfer recordings to our
secure Cloud Platform
More
Wide Dynamic Range
All INSTAR Full HD cameras use the latest Panasonic WDR CMOS sensors. The configurable Wide Dynamic Range (WDR)function prevents over and under image exposure even under the most adverse lighting conditions.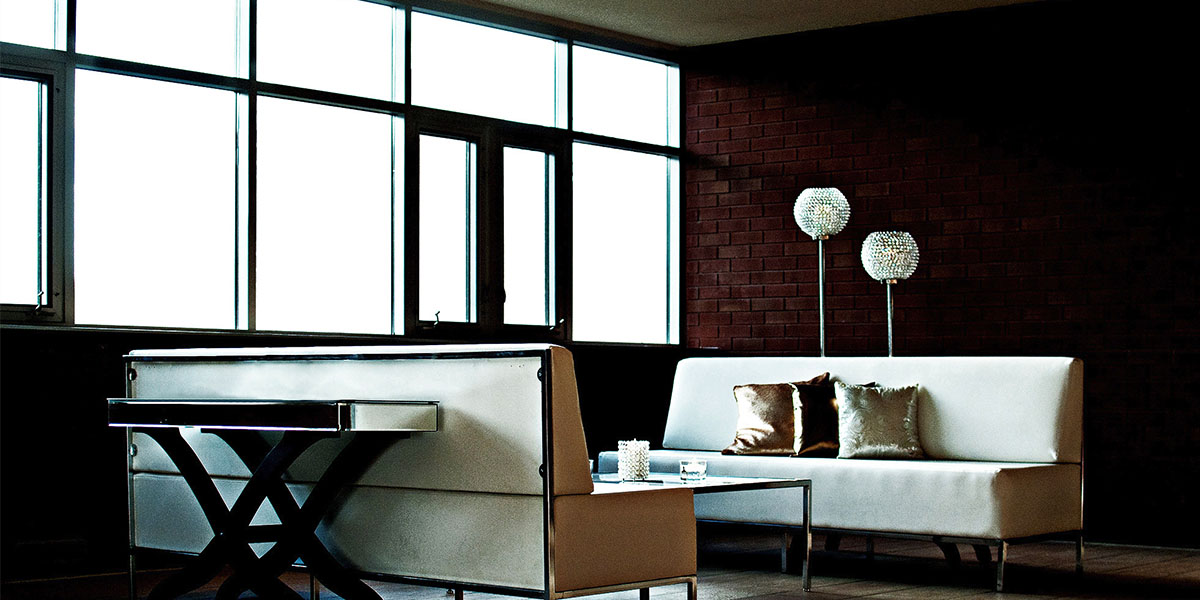 Full High Definition Video
The new Full HD Panasonic WDR CMOS sensor give you twice the resolution compared to the sensor used in a 720p HD camera model. An additional 1 million pixel allows you to see even distant objects in full detail.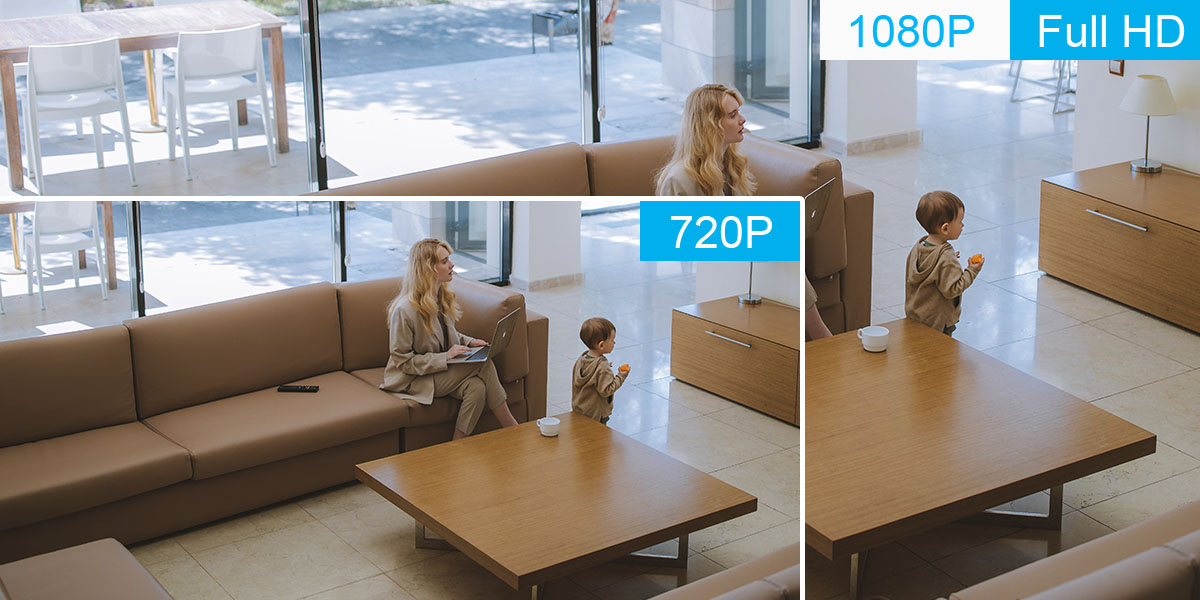 Comfortable Sense of Security
Avoid false alarms by linking the software based motion detection with the integrated body heat sensor (passive infrared, PIR). This way you only receive alerts when something actually happened.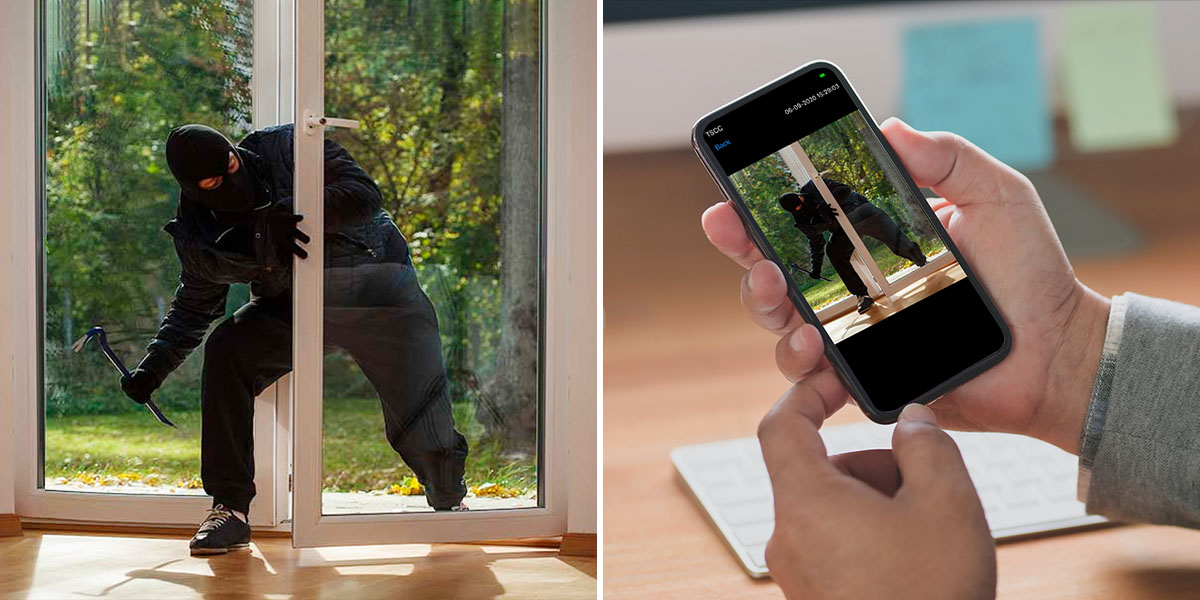 350° Pan & 100° Tilt
Easily rotate your security camera into different directions. You can save and call preset positions in order to monitor the entire room. This works inside your network and also from remote when you access the camera through the free App InstarVision or the integrated Web Interface.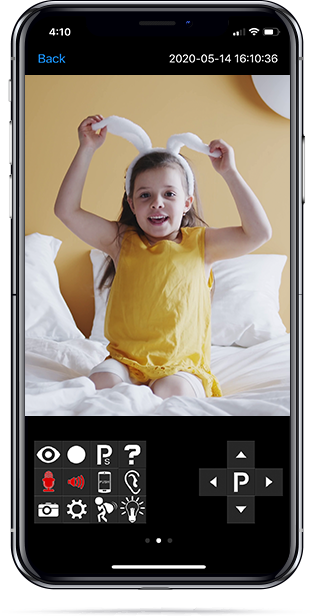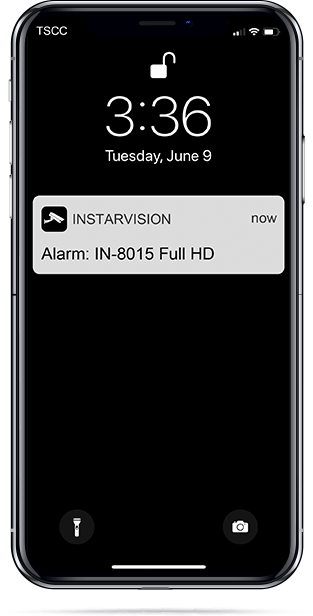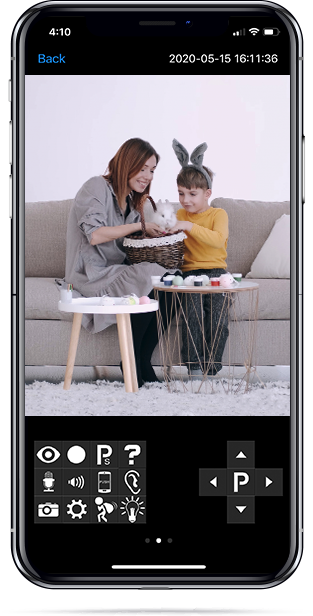 Two way talk

The camera is perfectly suited to be used as a baby or pet monitor with it's built-in microphone and loudspeaker. Keep an eye on your loved ones with our free InstarVision smartphone app – when you are at home or when you are on the road.

Microphone

Built-in Microphone

Loudspeaker

Built-in Loudspeaker

Alarm Notification

The push alarm notification sends a text message to your phone when an alarm was triggered. The message can automatically open your camera's live video. Additionally, you can receive an e-mail notification with up to 8 alarm snapshots.

Push Notification

Be alerted the second an alarm was triggered

E-mail Alert

Receive alarm snapshots to document the event

Acoustic Signal

Let your camera emit an alarm signal

Alarm Server

Built-in Loudspeaker

PTZ & Preset Positions

Use the Alarm Position to have your camera move to a configurable preset position when an alarm is triggered. This can be combined with the option to connect an external sensor – like the IN-Motion 500 – or the internal Audio Alarm. Effectively, use your camera's pan&tilt function by having it monitor one direction while your external sensor covers your camera's blind spot.
Keep Your
Alarm Videos Secure
Your camera can store alarm recordings on the internal SD card, upload them to a private FTP(S) Server or, optionally, use the INSTAR Cloud service to keep those files secure. Every alarm event can trigger a short alarm recording that will be automatically be transferred into your INSTAR Cloud account – secure, on German servers and only accessible by you!
Start a Free Trial

SD Card
max. up to 128GB

FTP Upload
Large capacity
INSTAR Cloud
Auto upload to cloud
(optional)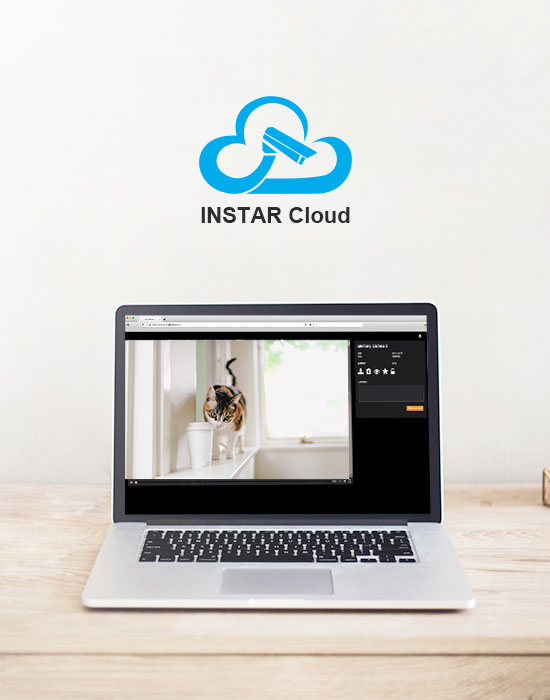 A Camera That Speaks "Smarthome"
Smarthome systems vary largely. But what they have in common is the language they speak. Wireless sensors connect to your smarthome gateway using standards like Zigbee, Z-Wave or EnOcean. While wired devices usually communicate via the MQTT protocol. Use your camera as a MQTT Hub in your home network, giving your smarthome 100% control over all it's functions. By providing this standard compliance you can indirectly link every sensor in your home with your camera.
See more MQTT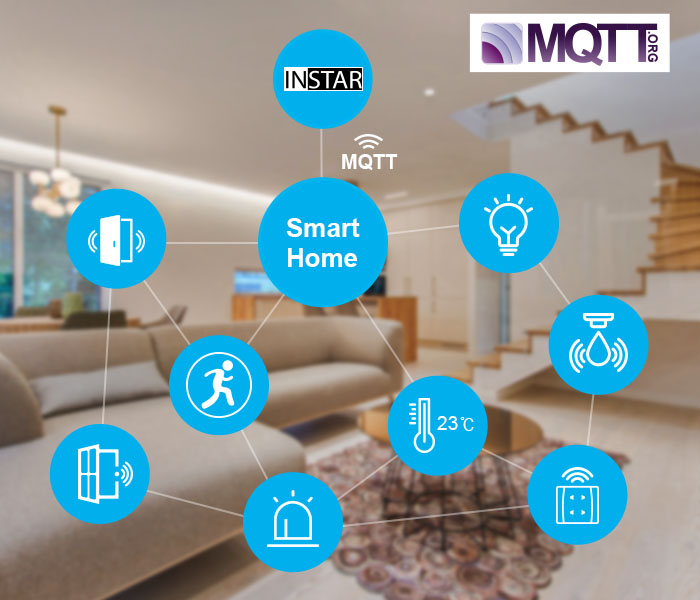 Smart Living with INSTAR
All smart home systems build on a component, usually called a "gateway". This gateway – a black box you connect to your router or a cloud platform like IFTTT – holds the logic that drives your home automation. It is also packed with interfaces that allow sensors and actors to connect and be configured according to your needs. INSTAR cameras can be added to a large variety of systems using their HTTP and MQTT interface. Everything that is connected to your gateway is also, indirectly, connected to your INSTAR camera – Amazon Alexa, Phillips Hue, Google Assistant, Cortana.
See more smart home content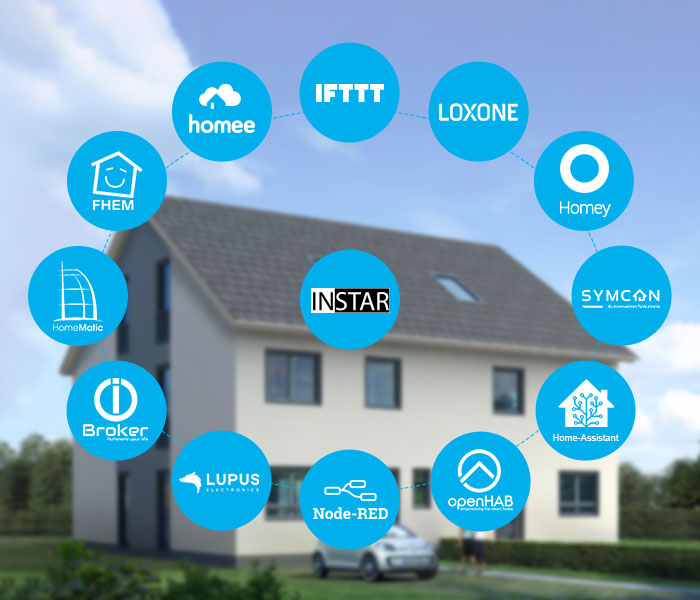 INSTAR Cloud Works with Amazon Alexa
INSTAR Cloud Skill – ask Alexa to play alarm videos on your Echo Spot or Echo Show. Let Alexa only show you videos where the INSTAR Cloud algorithm detected cars or humans. Activate the email notification and object recognition with a convenient voice command.
Learn more about the INSTAR Alexa Skill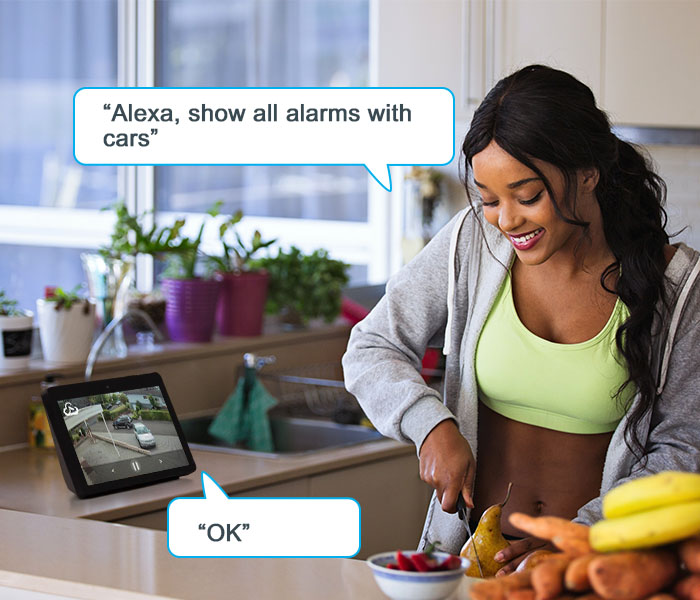 Easy to install
For stand, wall and ceiling Mount, you can install it easilly. It is simple and convenient to use, not only can be placed on the desktop, bedside of the window and door, It can also be inverted on the roof, wall. You can flip screen in the camera settings.

Delivery Content

Camera

Usermanual

Bracket

Lens Focal Tool

16GB MicroSD

Screws / Douls

Power Adaptor
LAN Cable

Antenna
CMOS Sensor
1/3 inch Panasonic WDR
Optical Zoom
fixed focal length
Illumination
0.05 Lux at F2.1
max. Resolution
1920x1080
Picture (turn / mirror)
180°, yes
LAN connection (RJ45)
10/100 MBit
integrated Wifi
up to 150 MBit
max. recommended Wifi Distance
about 8-12m
Wifi Encryption
WPA, WPA2
WPA / WPA2 Encryption Type
TKIP, AES
integrated Infrared LEDs
10 LEDs / 0,05Watt / 850nm
max. Night Vision Distance
8-12m
Works with 940nm LEDs
Yes
integrated Infrared Cut Filter
Yes
Motion Detection (software-based)
Yes
Alarm Notification by Email (with pictures)
Yes
Alarm videos / pictures by FTP upload
Yes
Video Recording to SD card
Yes
Multi View (InstarVision App)
Yes
integrated (free) DDNS address
Yes
Third Party DDNS Providers available
Dyn.com, DynDNS.com, No-IP.com
ONVIF Protocol
Onvif 2.4 - Profile S
integrated Microphone
Yes
Audio Input / Output
no / yes
Pan & Tilt control (motor driven)
350° / 100°
max. storable Positions
8
User-Groups
Admin, User, Guest
Requirements & Measurements
supported Operating Systems (OS)
Windows, MacOS, Linux
supported web browsers
Internet Explorer, Mozilla Firefox, Google Chrome, Opera, Safari
supported Smartphones
iPhone, iPad, Android, Windows Phone 8, Blackberry
max. working temperature
-5°C to 55°C
Powersocket connection
110 - 240V
max. power consumption
Watt
Bracket Mount
DIN4503 / ISO1222
Measurements in cm (H / W / D)
12.4 / 11/ 11
Everything you need to know to install your camera
Latest Firmware and WebUI Bundle

Firmware 4.1.2.48 WebUI 3.1 (350)
(02.03.2020)
(Read me...PLEASE)
About This Firmware
New Features in version 2.6:

aa

● HTML5 video stream support for the new Edge (Chrome), Google Chrome, Mo-
zilla Firefox and Safari Browser
● Video settings have been reworked
● SSL certificate has been updated for HTTPS and MQTT.
● If the integrated certificate is being used, all MQTT clients connected to this MQTT
broker require the new host certificate.
● General bug fixes and improvements
Important notice for update FW 4.1.2.39, WebUI 1.4:

aa

The firmware is now saving all settings before the update and restores them after the update. Please note, that therefor the update can take up to 8 minutes. Usually the update is done after 3-5 minutes. Never unplug the power during an update, stay relaxed... the camera will need a certain time to restore the old settings during the update process.
Show older changelogs:

aa

What is new in version 2.5 ?

● Improved P2P functionality
● General bug fixes and improvements

What is new in version 2.4 ?

● PTZ functionalities have been reworked [IN-9010FullHD / IN-9020FullHD]
● A PTZ reset is strongly recommended! [IN-9010FullHD / IN-
9020FullHD]
● Alarm prevention during PTZ available [IN-9010FullHD / IN-9020FullHD]
● PTZ reset button can be found in the PTZ settings
● Simplified cloud integration
● From now on it is required to use your Cloud Login data (email
● address & cloud password) instead of the individual cloud camera
data.
● Extended alarm server functions
● Arming and disarming the alarm via quick access button
● Changing the recording length doesn't require a reboot anymore
● General bug fixes and improvements

What is new in version 2.3 ?

● Support of custom SSL certificates for HTTPS connection with a custom
DDNS address
● Simple 1-Click update method
● Offline update with traditional PKG file is optionally available
● Alarm recordings up to 60 seconds
●Initial network integration via direct WiFi connection - This feature is
●available for WiFi cameras during initial setup or after a factory reset. After
● the network integration, the camera's hotspot will be permanently disabled.
● An issue with hidden WiFi SSIDs has been solved
● IR-CUT Filter settings available
● Weather Widget has been removed *
● Factory reset and WPS activation via SD card has been simplified **
●General bugfixes and layout changes
● * The weather service of Yahoo Weather has been discontinued in its
previous form. This feature will be reintroduced to the cameras WebUI at a
later point.
● ** Reset and WPS via SD card can now be triggered by a file with the text
file extension .txt - For a reset, simply create an empty file in the root folder
of you sd card with the name "reset" or "reset.txt" - For WPS activation the
file must be named "wps" or "wps.txt"

What is new in version 2.1 (192)?

● Alarm areas can be activated at preconfigured times
● Auto deletion of SD content after predefined number of days (timed ring
memory)
● SD content is sortable in the SD Viewer
● SD Preview pictures are highlighted and navigable by arrow keys
● WebUI Menu
● Night Mode/Theme for the WebUI (toggle by keypress o or enable/disable
in the WebUI Menu)
● 3rd query-command for the alarm server added
● IP can now be logged during login (activate through user management)
● A problem solved that caused the RTSP stream not being accessible by
● the guest account in the rare case that the user account was deactivated
● Updated HTTPS Certificate
● Wifi transmission rate up to 150M
● Camera overlay name will be used as email alias / sender name
● Polish language support
● Graphical tweaks and fixes in the WebUI
● WPS & Reset can be triggered by the SD card (In case of a missing reset
button you can create an empty file with the name "wps" or "reset" in the
root folder of the sd card and insert it into the camera. Boot device to
execute)
● Important security updates
● WPA2 encrypted WIFI KRACK vulnerability fixed
● WiFi and network settings can now be exempted from the factory reset
● General bugfixes and layout changes

What is new in version 1.4 (170)?

● Integration of a CGI command to manually trigger an alarm event
● ONVIF time zone changed
● Improvments on the performance
● General bugfixes and layout changes

What is new in version 1.3 (167)?

● Problem solved for IE11
● Problem solved vor layout and when sending control commands through
● Google Chrome
● A small problem solved for P2P which might cause the App to crash
● Display problem for camera name solved
● A problem solved that could cause the time stamp to show wrong for
emails
● General bugfixes and layout changes

What is new in version 1.2 (160)?

● A problem with Firefox 32Bit was solved
● Email validation extended for very long domain names
● Problem solved that caused no video when opening the web interface for
the first time

What is new in version 1.1 (158)?

● A problem was solved which caused the PIR sensor to constantly trigger
an alarm event
● An issue with the summer and winter was solved causeing the camera to
show the wrong time
● General bugfixes and layout changes
IN-8015 Full HD Tutorial Videos
Adjust the focus of you IN-8015 Full HD
Introduction of the new Full HD WebUI
FAQ's
Product FAQ
Are there Installation Requirements?

aa

Everything you need to install the camera and add it to your local network is included inside the package. Simply connect the camera through either LAN cable or WiFi to your router. Once connected, use your smartphone or computer to configure your camera according to your needs. All INSTAR cameras can be used inside your network without any internet connection, only when accessing the camera from outside of your network, you will need a router with an internet connection – no additional mandatory fees or subscriptions are required for using INSTAR cameras.
Do I need any Plugin (such as Flash) to view the camera video stream?

aa

No, all INSTAR Full HD models offers the option to display the live video as an HTML5 video stream. You do not need an additional browser plugin to view the video.
Are there any additional cost after I purchased the camera?

aa

INSTAR cameras have no mandatory subscription service that would result in additional costs. INSTAR does offer optional PC software (instarvision for Windows and MacOS) and cloud storage plans (INSTAR Cloud) for upgrade needs.
What is the size and weight of this camera?

aa

The camera's measurements are 12.4cm / 11cm / 11cm and its weight is 368g.